[column width="1/1″ last="true" title="" title_type="single" animation="none" implicit="true"]
First African Methodist Episcopal Church, Oakland
COVID-19 Update
My beloved brothers and sisters,
I continue to pray for you each day. Remember to, "Trust in the Lord, with all of your heart, and do not lean on your own understanding. In all your ways acknowledge Him, and He will make straight your path," Proverbs 3:5-6.
I am excited to announce that we will begin live streaming our worship services at 10:00am from our own FAME Facebook page. If you don't have a Facebook account, you may sign up today at Facebook.com. On Sunday, click this link to access the Sunday worship service live stream: FAME OAKLAND LIVE STREAM
For those who choose not to use Facebook you may listen to the service via telephone by dialing into a Zoom number to support those who call into our Sunday, 10:00am Worship Service.  The number is – 1 669-900-6833 US (Oakland/Bay Area), Meeting ID: 815 0304 1068.  The Zoom video feature has been disabled.  Also, so that all may hear and be blessed by the service, when calling in we ask that you immediately mute your telephone and do not announce yourself.
Mem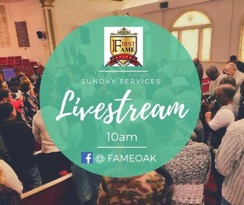 bers and friends are also encouraged to attend our weekly Morning Prayer Service on Mondays at 7:00am and Bible Studies on Tuesdays at noon and Wednesdays at 7:00pm. Dial into our conference call number (605) 313-5719, access code 694281#.
Tithes and Offering – Your financial gifts are welcomed and appreciated. As always, you have several methods to use to facilitate giving:
FAME Online Giving at https://fameoakland.org
Use CashApp ($fameoak)
Mail in your gift to FAME – 530 37th Street, Oakland, CA 94609
Drop off your gift at FAME (place in the mail slotl)
Thank you for your patience and understanding during this challenging time. Please remember we are here for you. For general questions, you may call the church office Tuesday – Friday at (510) 655-1527 between 10:00am – 2:00pm. Phones are forwarded to our awesome receptionist team. For clergy emergencies, please call (510) 899-4980 for support.
God bless you, your loved ones, our brothers and sisters working in the medical field, our first responders who keep us safe and those who are impacted by COVID-19.
Yours in Christ,
Rev. Dr. Harold R. Mayberry
Senior Pastor
FAME, Oakland
[/column]