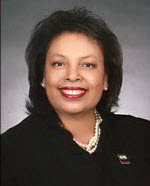 LADY MARY MAYO MAYBERRY
Since arriving in Oakland California and beginning her ministry with the AME Church in 1997, Mary has been present and active on many levels in organizations in the church. She has served as the first vice president of the Melba B. Woods Women's Missionary Society at First AME Church.
Currently, Lady Mayberry serves as the Worship Director fro the Fifth Episcopal District Women's Missionary Society, first vice president of the California Conference Women's Missionary Society, and president of the California Conference Clergy Family Organization. She is also a board member of the Women's Global Resource Development Initiative (WGRDI) of the Women's Missionary Society, and serves on the board of trustees for Children of Promise. Lady Mayberry also is a member of the FAME Adult Liturgical Dance Ministry.
Professionally, Lady Mayberry is an Administrative Services Manager in the Department of Contracting and Purchasing for the City of Oakland. She is responsible for the department's fiscal operations. Serving in this capacity has afforded her a hands-on position with citizens, community groups, contractors and small local businesses, enabling her to showcase her talents in government and community affairs while displaying the efficiency and accuracy that had become her professional trademark.
Mary holds a Master of Science degree in Public Policy and Management from Carnegie Mellon University, Heinz School of Public Policy and Management in Pittsburgh, Pennsylvania and a Bachelor of Arts degree in Political Science from Xavier University in New Orleans, Louisiana. She is a member of Delta Sigma Theta Sorority and the National Forum of Black Public Administrators. Mary is the wife of Rev. Dr. Harold R. Mayberry, senior pastor of First AME Church, Oakland California and Chairperson the Episcopal Committee of the African Methodist Episcopal Church. Their family consists of three children: Harold II (Jennifer), Stephanie and Stacy (Petter) and three granddaughters, Ahmaharii, Joella and Neiyah.